The purpose of the Environmental Justice Action Committee is to
engage the congregation members,friends, and the community
in issues of environmental stewardship and justice.
We have two important goals;
First, to educate the church community about the factors relevant
to climate change and related social issues, and,
second, to model responsible actions and behaviors
that promote creation care and stewardship.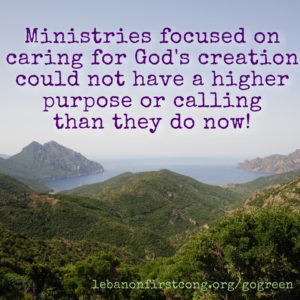 WHAT HAPPENS TO A FRUIT TREE
THAT IS NEVER VISITED BY A POLLINATOR?
It bears no fruit.  Likewise, the fruitfulness
of our committee depends upon pollinators!
Upcoming Meetings
-April 12, 2017 7pm
-May 10, 2017 7pm
Our meetings are open to the public. All are welcome to join us to plan for events, discuss ways to get involved locally and globally, and more!
We welcome any ideas and thoughts to provide a better future for our planet!
All meetings are held in the Fellowship Hall of the First Congregational Church of Lebanon, unless otherwise noted.
Upcoming Events