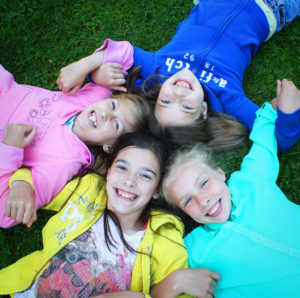 Spiritual growth is a challenge even for the most diligent parents. Finding ways to help grow our children in ways of God's love is part of our mission in Christian Education at First Congregational Church of Lebanon.
Come join us as we celebrate God's love and grow in faith together!
Click Here to Register Online for the 2017-2018 year!
Join us as we gather and prepare to learn and grow together this year through the Seasons for Growing!  This year's theme is SEASONS FOR GROWING is supported through our new curriculum, Seasons of the Spirit.   As the summer season draws to a close we'll gather to celebrate a first Season of Sunday School for the 2017-18 program called the Season of Creation.  In keeping with our environmental ministry program here at FCC Lebanon, our children will be engaged in learning more about caring for God's creation – our home- during their first weeks of Sunday school.  More specific information is outlined below and a full-year calendar will be distributed to all on Sunday October 1, 2017.
Seasons for Growing…Sunday school at FCC Lebanon
Parents of children who are ages 4 through grade 8 are invited to register for our Sunday school!  We'll need updated information about the needs of your youth, contact information and more.
September 10th: Rally Sunday!  Blessing of the Backpacks.   Children and youth are invited to bring their backpacks to worship to receive a blessing for the year ahead.  Parents can find more information at the Board of Christian Education's display table during our fellowship time.
Following the blessing of backpacks, all children will be invited to the Lathrop Room to engage in community building activities to start the new year!
September 17th:  First day of Sunday School! Our theme is Exploring the Wilderness.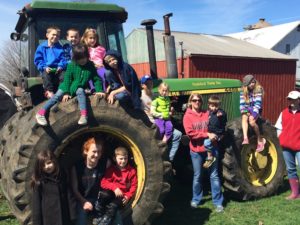 This year our children will gather in two classes:
Seasons 1. – a learning environment created for those ages 4 through Grade 3.  This class will offer our youngest learners an interactive setting for growing in faith.  This class will be held in the room across from our nursery.
Seasons 2.- is a learning environment created to stimulate the faith development of those in Grades 4-8.  These learners will engage in projects, discussions and hands on opportunities to grow in faith designed specifically with the needs and habits of middle elementary and "tweens" in mind! This class will be held in the Lathrop Room.
September 24th: Our theme is River Sunday.
Seasons 1. – Our youngest group will explore the life-giving nature of water in hands on activities to discover something of its importance to sustaining life.
Seasons 2. – Our older group will explore the life-giving nature of water and engage in creating sculptures of wire that represents the flowing nature of water or a tree of life.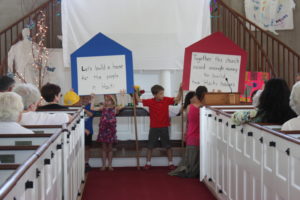 October 1st: Bible Presentation Sunday!
Our theme is Wilderness Surprise!
Seasons 1 and Seasons 2. – Each group will explore the concept of God's ever-present love and care- "God is ALWAYS with us" through a variety of activity zones: Drama, Story, Art and Music.
Children in Grades 3 and 4 will receive their bibles.  Families will learn more in a letter from the Board of Christian Education, families of youth in 3&4 should look for this note in early September.
Wilderness Guides Wanted! 
 Our Seasons for Growing Sunday school needs YOU!! We are looking for a few willing volunteers to assist on Sunday mornings with our Seasons 1 and 2 classes.
Seasons 1 is for children ages 4-Grade 3 and will meet in the double classroom across from the nursery.
Seasons 2 is for older children and tweens (Grades 4-8) and will meet in the Lathrop Room.
We provide a curriculum to guide you, support and information, materials etc.  We seek to create a team of three leaders for each Sunday morning group.
Training can be provided at your convenience.  We have a wonderful vision for creating exciting and engaging faith formation for all youth on Sunday mornings.  Your "season" would be approximately 13 weeks.  Each team would determine their own schedule, making plans to have 2 leaders in the gathering spaces at all times.  Teams would negotiate their own Sunday schedules within the Sunday school calendar.  Holiday seasons would offer Sundays off according to the school calendar.
For more information, contact any member of the Board of Christian Education and visit our table on Rally Sunday to learn more!